Warning message
Mean Menu style requires
jQuery
library version 1.7 or higher, but you have opted to provide your own library. Please ensure you have the proper version of jQuery included. (note: this is not an error)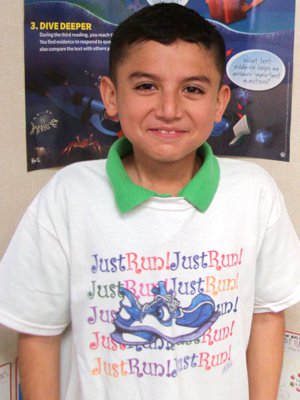 In conjunction with running and physical activity, JUST RUN promotes good citizenship. When students accumulate milage totals up to the marathon distance of 26 miles AND have performed 26 acts of good citizenship, called Just Deeds, they can be awarded the Just Deeds Certificate of Congratulations. 
When 50 miles have been run, participants in Monterey and other designated counties will receive JUST RUN tee shirts. Use the Just Deeds form to record the student's Just Deeds.
Examples of Just Deeds
(submitted by children)
Aunt
Helped my aunt close the door
Bathroom
Cleaned bathroom 
Washed walls in bathroom
Being Responsible 
      
Made my own lunch for school
      
Picked up my place mats after dinner
Best Kid Ever
Gave my parents back rubs
Brotherly love
Helped my brother when he got hurt
Helped brother get soup at home 
Helped brother get cereal
Helped my brother's pets
Bye-Bye Hair
Donated hair to Locks of Love
Got hair cut off for Locks of Love
Car
Washed the car
Vaccuumed car
Cleaning-Up
Cleaned off the table without being asked
Helped clean the school yard after school
Did the family's dishes
Washed the dishes without being asked
Dogs
Walked my dog
Family
Helped my family pick things up around the house
Following School Rules
Two students remembered the school rule to not enter a classroom without the teacher being present. As a result the two students were rewarded with fruit from their teacher.
Getting Rid of Evidence
Helped mom shred papers
Grandma
Helped Grandma get to the bathroom
Helped in a Group Run
Placed water bottles out so people could use them
Helped in the Running Group
Taught the class running group some new stretches and exercises that everyone really liked
Helped the Teacher Clean the Classroom
Helped clean the classroom at lunch time
Helping
Helped blow off driveway 
Helped someone at the store 
Helped someone get a straw
Homework
Did my homework without being asked
House
Vacuumed house
Home
Made my own breakfast
I Helped my Little Sister with her Homework
Every night after dinner I helped Paxton with her homework
Love Everyone
Helped with Thanksgiving meal
Love my Dogs
Changed dog's water
Love my Grandma
Helped my Grandma
Mom's Helper
Helped Mom bake
Helped Mom with food at the store 
Helped Mom sort out food
Mommy the Great
Helped my Mom with the plants
Mowed the Neighbor's Lawn
Mowed the nieghbor's lawn and didn't ask for money.
My Amazing Big Brother Skills
Put milk in ceral for little brother
Outside
Helped with gardening
Parents' Bed
Made parents' bed without being asked
Piano
Practiced piano without being asked
Pies
Made pies for the needy
Read
Read to my little brother
Room
Cleaned my room without being asked
Showing Mom I Care
Helped Mom take bags to her car trunk
Sister
Helped my sister sweep the floor
Stamped
Stamped books at Pacific Grove Middle School for free
Store Help
Put back yellow cartons at store
Students Followed Up On Homework Assignment
Two students followed up on their homework assignment when they discovered that the teacher had accidently assigned the wrong homework page.
Table
Set the table without being asked
Took Out The Trash
Took out the trash at a fast food place
Took out the trash at home
Took Care of Baby
Took care of baby brother in an emergency when mother had to go to hospital.
Vacuumed
Vacuumed friend's house
Volunteer Work at a Soup Kitchen
Provided food for the homeless at Dorothy's Kitchen in Salinas.
Volunteer Work at the Big Sur Half Marathon
Gave water and food to runners at the end of the race.
Volunteered To Set Up for Kinder Concert
Spent two hours of volunteer time helping set up and decorate the stage for a Kinder Concert at school.
Walked
Walked neighbor's dog for free